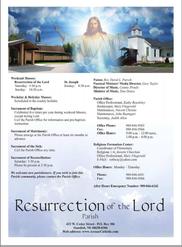 Of Mind and Heart



​​

On this feast of Pentecost, we celebrate the coming of the Holy Spirit to the first disciples. We ourselves were filled with the Holy Spirit at our baptism and confirmation when were bestowed with the gifts of wisdom, understanding, right judgement and courage, knowledge, and reverence and wonder.



As a country, we celebrate Memorial Day weekend, remembering our beloved dead, especially those who gave their lives for our country's freedom. Many people have the custom of visiting graves this day and saying a prayer. One prayer you could use is, "Almighty God and Father, by the mystery of the cross you have made us strong; by the sacrament of the resurrection you have sealed us as your own. Look kindly upon your servants, now freed from the bonds of mortality, and count them among your saints in heaven. We ask this through Christ our Lord. Amen."



We will begin distributing the Blood of Christ at mass starting on the Feast of the Most Holy Body and Blood of Christ June 10 and 11th. On that same weekend, we plan to have a Eucharistic Procession on our grounds after the 10:30 Mass. We will provide more information soon about what a Eucharistic Procession is and what it entails. Stay tuned.



May God's Holy Spirit light a fire of love and faith in our hearts.

Peace,

Fr. Ron